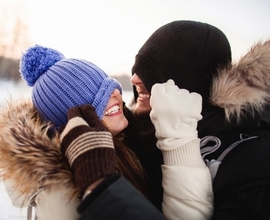 It's that time of year again where we gather with family and friends to celebrate the season's festivities and attend various social get-togethers, all of which might end up displayed on social media and photos throughout your home.
At Louisiana Dental Center, we are a family dentistry and specialty practice, who understand the importance of a healthy-looking smile. We are happy to help you flash your brightest smile so we are gifting FREE teeth whitening again this year! This giveaway has a value of $300, and who doesn't need that cash for Black Friday specials and Christmas gifts?
No matter what your age or how faithful your daily oral hygiene routine, your pearly whites can lose their luster and from stains built up over time. Unfortunately, your daily morning Joe, black tea, wine or berry consumption can leave you with tooth discoloration.
Like last year, we are offering new patients a FREE custom-tray teeth whitening kit when you have your initial comprehensive dental exam, X-rays, and a prophy cleaning. This is the time of year to use your dental insurance benefits before it rolls over again in the New Year. To help you get the most out of your plan, we encourage you to come get your teeth cleaned and as a bonus, get your FREE custom-tray teeth whitening kit just in time for the holidays! We are hearty advocates of the "use it or lose it" strategy when it comes to benefits.
Because professional teeth whitening treatments are powerful, our dental team at Louisiana Dental Center will assess the health of your teeth and gums to make sure your smile can accommodate teeth whitening, and gifting you a custom-tray teeth whitening kit at your visit. Our full-mouth X-rays, prophy cleaning and comprehensive exam costs $185 (this is a minimum fee that might increase depending on the treatment your smile may need).
To receive this free holiday gift, you will want to come in before January 31, 2020. The offer is not valid with any other discounts and it is not redeemable for cash. At Louisiana Dental Center, we are honored to serve you and your entire family with excellent dental care. To use your dental benefits before they run out this holiday season, we welcome you to call (985) 735-0078 to book your appointment for a whiter, brighter smile!